Tom Spina, Tom Spina Designs, special guest.  As announced on the official Original Prop Blog Facebook page yesterday, the 'Prop Talk' podcast is a new regular feature for the Original Prop Blog that has been in the works in recent months (as alluded to early last month – see "Original Prop Blog: Three Year Anniversary").  This is an effort to use old and new technology to bring a richer and more informative and entertaining experience to readers of the site – and perhaps turn them into listeners.
This article contains the first in what will be a regular ongoing series of full-length audio podcasts featuring one on one interviews with interesting people who participate in and/or affect the hobby of collecting and preserving original movie props, costumes, and other assets.  The first guest of this new program is Tom Spina of Tom Spina Designs.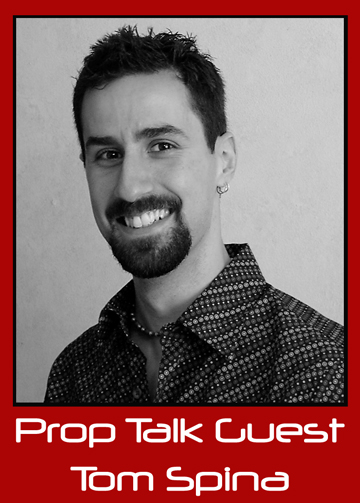 Tom was gracious enough to work with me to test out the new studio equipment put together for this endeavor, and as I overcome various learning curves in producing these broadcasts, quality should improve.
In any event, a number of things have served as inspiration for this added feature of the OPB.  I do talk with a number of interesting people every day, and I thought that this might be a way in which to capture, share, and archive this information to both entertain and inform.  It is also a good use of old (analog telephone) and new (Internet and delivery/playback) technology to the benefit of followers of this website.
I already have a very long list of people I plan to approach to be guests of this show, and will attempt to bring together a good mix of individuals who will have interesting information and stories to tell that relate to the hobby.
Below is a streaming audio player with which you can listen to episode #001 (length one hour, one minute) – press the play icon to start the audio program:
"Prop Talk" by The Original Prop Blog
http://www.originalprop.com/blog/podcast/original-prop-blog-prop-talk-podcast-01-050810.mp3

I am also working to have all episodes available as podcasts on iTunes, which can be subscribed to and downloaded to your computer or portable device (iPod, iPhone, Zune, etc.).  I will update this article once this first episode passes their approval process and is available on iTunes.  You can manually subscribe to the feed today by opening iTunes, and going to Advance > Subscribe to Podcast > then type in the RSS feed: http://www.originalprop.com/blog/?feed=podcast
UPDATE 05/13/10:  Episodes can now be downloaded directly via the Apple iTunes Store (click portal below):

As noted in the interview, you can learn more about Tom Spina at www.TomSpinaDesigns.com, on Twitter at twitter.com/tomspinadesigns, and on Facebook at facebook.com/tomspinadesigns.
Special thanks to Tom Spina for taking the time for the interview to share his thoughts and experiences with readers of the Original Prop Blog.
Also many thanks to Robin Gwynne for the intro/outro voice over tracks.
Jason DeBord
This is a syndicated post. Read the original at Prop Talk by The Original Prop Blog 2010-05-09.